Whole foods that help fight disease.
Nikki Jong, Caring.com contributing editor
As part of a healthy diet, whole foods play a significant role in helping our bodies function optimally. There are hundreds of extremely nutritious whole foods, but the dozen on this list do more than contribute healthy nutrients—they help you heal. In fact, every food on this list boasts multiple healing effects, from fighting cancer to reducing cholesterol, guarding against heart disease, and more. Eat these super-healing picks and start feeling pretty super yourself.
Kiwifruit
This tiny, nutrient-dense fruit packs an amazing amount of vitamin C (double the amount found in oranges), has more fiber than apples, and beats bananas as a high-potassium food. The unique blend of phytonutrients, vitamins, and minerals found in kiwifruit helps protect against heart disease, stroke, cancer, and respiratory disease. Kiwifruit's natural blood-thinning properties work without the side effects of aspirin and support vascular health by reducing the formation of spontaneous blood clots, lowering LDL cholesterol, and reducing blood pressure. Multiple studies have shown that kiwifruit not only reduce oxidative stress and damage to DNA but also prompt damaged cells to repair themselves.  

Kiwifruit are often prescribed as part of a dietary regimen to battle cancer and heart disease, and in Chinese medicine they are used to accelerate the healing of wounds and sores.  

How much: Aim to eat one to two kiwifruit a day while they're in season, for the best taste and nutrition. California-grown kiwifruit are in season from October through May, and New Zealand kiwifruit are available between April and November.  

Tips: Kiwifruit contain enzymes that activate once you cut the fruit, causing the flesh to tenderize. So if you're making a fruit salad, cut the kiwifruit last.  

The riper the kiwifruit, the greater the antioxidant power, so let them ripen before you dig in.
Cherries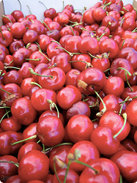 Cherries boast a laundry list of healing powers. For starters, they pack a powerful nutritional punch for a relatively low calorie count. They're also packed with substances that help fight inflammation and cancer. As if that weren't enough, in lab studies, quercetin and ellagic acid, two compounds contained in cherries, have been shown to inhibit the growth of tumors and even cause cancer cells to commit suicide—without damaging healthy cells. Cherries also have antiviral and antibacterial properties.  

Anthocyanin, another compound in cherries, is credited with lowering the uric acid levels in the blood, thereby reducing a common cause of gout. Researchers believe anthocyanins may also reduce your risk of colon cancer. Further, these compounds work like a natural form of ibuprofen, reducing inflammation and curbing pain. Regular consumption may help lower risk of heart attack and stroke.  

In Chinese medicine, cherries are routinely used as a remedy for gout, arthritis, and rheumatism (as well as anemia, due to their high iron content). Plus they're delicious.  

How much: Aim for a daily serving while they're in season locally. And keep a bag of frozen cherries in your freezer the rest of the year; frozen cherries retain 100 percent of their nutritional value and make a great addition to smoothies, yogurt, and oatmeal.  

Tip: Buy organic, since conventionally grown cherries can be high in pesticides.
Guavas

Guavas are a small tropical fruit that can be round, oval, or pear-shaped. They're not all that common, so they might be hard to find, depending on where you live. But if you can track them down, it's more than worth it. Guavas contain more of the cancer-fighting antioxidant lycopene than any other fruit or vegetable, and nearly 20 percent more than tomatoes. Our bodies can't process much of the lycopene in tomatoes until they're cooked; the processing helps break down tough cell walls. However, guavas' cell structure allows the antioxidant to be absorbed whether the fruit is raw or cooked, and the whole fruit offers the nutrition without the added sodium of processed tomato products.  

Lycopene protects our healthy cells from free radicals that can cause all kinds of damage, including blocked arteries, joint degeneration, nervous system problems, and even cancer. Lycopene consumption is associated with significantly lower rates of prostate cancer; in addition, men with prostate tumors who consumed lycopene supplements showed significant improvements, such as smaller tumors and decreased malignancy. Lycopene has also been found to inhibit the growth of breast cancer cells, and research suggests that this antioxidant may also help protect against coronary heart disease.  

This strange-looking little fruit is also packed with vitamin C and other antioxidants. Serving for serving, guava offers more than 60 percent more potassium than a banana, which can help protect against heart disease and stroke. In fact, the nutrients found in guavas have been shown to lower LDL and boost HDL cholesterol, reduce triglycerides, and lower blood pressure.  

How much: Aim to eat fresh guavas as often as you can when you can find them in stores. They're not commonly available in the freezer section; and most guava juices are processed and sweetened, so they don't provide the same superior nutrition that the whole, fresh fruit does. One to two guavas a day is a good goal.  

Tip: Opt for the red-fleshed variety if you can; both are loaded with antioxidants, but the red type has more than the white-fleshed apple guava.
Beans
Beans are a miracle food. They lower cholesterol, regulate blood sugar and insulin production, promote digestive health, and protect against cancer. If you think of fiber, protein, and antioxidants and immediately think whole grains, meat, and fruit, think again—beans offer all three in a single package.  

An assortment of phytochemicals found in beans has been shown to protect cells from cancerous activity by inhibiting cancer cells from reproducing, slowing tumor growth. Researchers at the Harvard School of Public Health reported that women who consumed beans at least twice a week were 24 percent less likely to develop breast cancer, and multiple studies have tied beans to a reduced risk of heart disease, type 2 diabetes, high blood pressure, and breast and colon cancers.  

Beans deliver a whopping amount of antioxidants, which help prevent and fight oxidative damage. In fact, the USDA's ranking of foods by antioxidant capacity places three varieties of beans (red beans, red kidney beans, and pinto beans) in the top four—and that's among all food groups. Beans are a great source of dietary fiber, protein, and iron. They also contain the amino acid tryptophan; foods with high amounts of tryptophan can help regulate your appetite, aid in sleep, and improve your mood. Many are also rich in folate, which plays a significant role in heart health. And depending on the type of bean you choose, you'll also get decent amounts of potassium, magnesium, vitamin B1 and B2, and vitamin K. Soybeans are a great source of omega-3 fatty acids.  

In Chinese medicine, various types of beans have been used to treat alcoholism, food poisoning, edema (particularly in the legs), high blood pressure, diarrhea, laryngitis, kidney stones, rheumatism, and dozens of other conditions.  

How much: Aim for a minimum of two servings of beans per week.  

Tip: Adzuki and mung beans are among the most easily digested; pinto, kidney, navy, garbanzo, lima, and black beans are more difficult to digest.